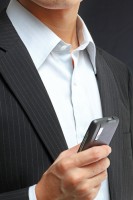 For those who are into trading, it pays to always have that advantage over the others. Technology always is able to give traders that essential advantage that may help them succeed. In more ways than one, some traders can have that advantage always on their hands. They can check out those important smartphone apps that active traders can use to help them make those important trading decisions. Here are just some of them:
StockTwits
In today's world, the best way to get news updates is usually through Twitter. News always gets to people in real time. If ever traders are looking for a similar tool that they can use, StockTwits may be their best bet. It provides a Twitter-like feed to users that usually consist of responses to market conditions by other traders, as well as important news and information coming by way of feeds from investing firms, media outlets and even amateur as well as experienced traders. For day traders who always depend on real time news and information, StockTwits can be a very important smartphone app. What's even better is that it is free.
AnalystRT
Traders usually get information they need from a variety of sources. It becomes a distinct advantage having data and information coming from different sources to get a more balanced view of the market conditions and be guided by the most objective of information available. Sometimes, getting the information from experienced trading analysts may also be important. If analyst's sentiments on the market is something that you hold dearly as part of your trading strategy, then the AnalystRT app is designed for people like you.
Opinions of experienced Wall Street analysts may also be considered as valuable information since they are usually backed by research. In a way, traders can use an analyst's view as a means of looking for good trading opportunities out there. AnalystRT is an app that provides users with an extensive list of stocks that are backed by analyst ratings. This will help traders create a watch list of stocks to look out for to get the most potential profit. AnalystRT app can be yours for a US$ 3 download.
Stock Guru for iPad
For those traders who would prefer having an iPad, there are also certain apps that would give them that trading advantage they need. There is the Stock Guru for iPad that may help traders have that access to real time trading data and info, a significant importance to those who are into active trading. It provides analysis of risk, momentum and financial strength of stocks to come up with a rating for each one. The app can also be used to sum up all of the data of the different stocks and rate them according to different factors. What Stock Guru for the iPad can do is to provide traders with possible stock picks as well as have the necessary tools that sum up all of the ideas and trading factors at play and present the findings into useful data for the users to digest. The StockGuru for the iPad app is available for US$ 20, probably something that might not be of interest for the occasional trader but essential for those who engage in day and short-term trading.
Investing – GuideTo.Com
Tags: Active, Apps, Important, Smartphone, Traders